JUST 1%, THAT'S ALL IT TAKES!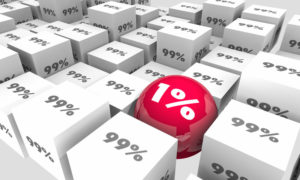 The 1% Principle helps us deal with adversity. It is so easy to become overwhelmed when faced with adversity. We are not at the top of our game. Maybe we are in a lot of pain, maybe we have too much to deal with and don't know where to start, maybe the to-do list is way too long, maybe it seems like it will never end. Whatever it is for you in this moment. We just want it to be over and get to a better place, right? This is where we need The 1% Principle.
One night, a couple of years ago, I was in extreme back pain and it was intolerable. I just did not know how to cope; it felt like it was going to go on forever! My husband said, "Try to find one position for one minute that is comfortable". What great advice! I found one position and could lie there for one minute and by stringing the one minutes together, I made it through the night and eventually, out of back pain.
That is when I started to think about 'The 1% Principle'.  The antidote to overwhelm is action and as it turns out 1% action is enough to feel better! After our accident, with a long and uncertain outcome to a broken neck, I would long for life to be "Back to normal". With having a husband with a broken neck and being traumatized with sores all over my body, I just wanted to run with my husband like always. Although happily, that turned out to come true but it was certainly not the case at the time. I learned to apply The 1% Principle. What did that mean? What did it look like? As far as running went, it meant going out the door of the cottage, walking around the yard, taking Ruffus for a slow walk for two minutes and then five. It meant feeling better because I could walk a few minutes, it was 1%.
The funny and great thing about The 1% Principle is the return on the investment! By that I mean, for 1 % effort quite often you feel 100% better. After spending time in the hospital with our son while he was dying, we would leave each day and go for a walk in the park with Ruffus. It was something we could do, it was our 1%. Of course it did not cure the brain cancer, but we always finished our walks feeling better than when we started.
When Ruffus was an abandoned beach dog, I am pretty sure he applied the 1% Principle frequently.  He knew that he needed to do everything he could to find a new family and home. He also knew that by getting a drink of water at the sprinkler or a meal from friends on the beach he would feel better, The 1% Principle, on his journey out of adversity!
The next time you feel overwhelm coming, try applying The 1%  Principle. What is that one thing you can do, even if it is for 1 minute that will make you feel better? Just try it!